Digital Standee
Digital standee is everywhere. It is a great tool to market a new product, to promote brand awareness, to communicate with staffs or students, and to engage with any audience in your space.
Digital Signage has the ability to show any type of media on a digital display. Digital signage is everywhere. For instance, the Mall, Restaurants, Hospitals, Universities, and Lobbies.
A digital signage or a digital standee, is a great tool for marketing a new product, Promoting brand Awareness, Communication with staff or students, and engaging just about any audience in your Space.
Sleek, durable, free-standing design
This all-in-one free-standing ePoster featuring a sleek, slim premium design delivers dynamic, eye-catching messaging in high-traffic areas.
Besides, the attractive design is also durable, utilizing a tempered glass faceplate that offers scratch-proof protection to keep your ePoster looking new year after year.
Built-in media player for photo and video playback
Standee is equipped with a built-in media player that allows high-quality photos and 1080p video to be broadcast directly on-screen from the ePoster's internal memory or an attached USB drive.
Full HD for superior true-colour performance
Our Standee displays content in Full HD.
In other words, at this resolution and brightness, high-definition multimedia messaging can be seen crystal-clear for a more realistic viewing experience.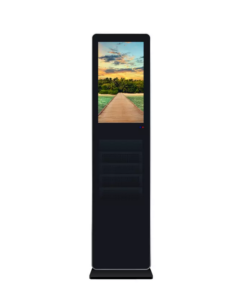 Digital Standee with magazine holder
Our freestanding magazine rack digital signage kiosk features a slim state-of-the-art design. It can attract your customer's attention and create an interactive and professional business environment.
Digital Standee 43'' to 55'' double sided display
Place this floor-standing double-sided digital vertical touchscreen kiosk on your showroom floor. Great to share your latest inventory or in a public area as the ideal wayfinding directory.
Digital Standee mirror LCD digital display
Architects & Interior designers are jumping on board new technology that transforms your Standee into a stylish mirror. It is the ideal solution to incorporate technology into your luxurious interior!
Digital Poster Standee
This Digital Poster Standee has a high contrast ratio and refresh rate and showcase dynamic content. In addition, with wide viewing angles giving the audience a more satisfying visual experience.
Want to know more about the product?