Intuiface
Build Your Profitable Business with Intuiface Installation Services.
Cutting Edge Digital Engagement for Physical Spaces, Effortlessly Created
Intuiface is the world's premier platform for digital agencies and integrators who wish to participate in the $500M interactive digital signage marketplace. Besides, Intuiface can help your clients connect people to place by offering digital engagement solutions. For instance multi-touch, RFID/NFC readers, beacons, Web APIs, Web triggers, sensors, IoT, and much more. Above all, all without writing code.
Improve your competitive position
Passive digital signage has become a goods. Interactivity is where you can differentiate and it's what your current and future clients want. Act before your competitors make the leap.
Broaden your service offerings, expand your volume, increase your margin – all without having to increase in size (yet!) . Grow with your existing resources while exceeding client expectations.
Become a trusted partner for your clients
Use Intuiface Analytics to identify, collect,visualize, and share the KPIs your clients can use to improve deployment success and gain insight about their target audience.
Offer the latest interactive options
Multi-touch, yes. But you can also work with RFID/NFC readers, beacon technology, sensors, Web APIs, Web triggers, IoT, virtually any data source and more. Endless opportunities.
Future proof your projects
Choose your own content management platform, device manufacturers, Web service providers, and more on a per-client basis. Besides, there is no lock-in or reliance on aging tech.
Not just your boring static digital signage. Your content is fully interactive!
Change content and trigger actions at specified times, dates and/or intervals for any number of devices.
Incorporate beacons to offer in-context intelligence to a browsing consumer.
Real-time access to external data ensures personalized experiences.
Run your signage on devices in multiple countries and never leave your chair.

Define, collect, visualize, and share data to gain insight about your audience.
Create Rich and Engaging Interactive Experiences
Your goal is to create visually appealing, memorable and effective interactive digital experiences. Intuiface Composer is up to the task, built to provide a constraint-free work environment in which you can build any experience imaginable. All this without ever writing one line of code.
Create using a modern platform
In software parlance, our editor – Composer – enables a "what you see is what you get" experience. Your design creations look exactly the same in the editor as they do at runtime so there are no surprises. Easily add your own content. For instance,  images, videos, documents, audio files by using drag-and-drop from File Explorer or via the built-in Content Library.
Start from scratch or use samples and templates
There are no annoying, pre-built templates or design constraints. You can control every pixel of the storyboard, workflow and layout. It's your experience and your audience so do whatever you like. Want some help? Our free sample experiences can be used for inspiration or as a starting point for your own work. Regardless of how you work, we've got you covered.
Landscape or portrait? Single screen or multi-screen display wall? iPad Retina display or Full HD on a Windows PC? Choose whatever is appropriate for your environment. You can even specify your own custom dimensions if called for by your deployment needs.
Take Advantage of Extensive Content Support
Of course your Intuiface experiences can include images, videos and documents. However, many more content types – we call them "assets" – are also supported including 3D models, HTML iFrames and embeds, maps, YouTube videos, Flash animation and audio for voice over and sound effects.
Treat All Media As Interactive
There is no need to code interactivity. In other words, your graphic content is automatically responsive to tap, swipe, pinch and other common touch screen gestures. Plus we've added our own additional gesture library, giving you even more freedom to express yourself. It's easy and intuitive.
Heavy Adobe Photoshop user? Working closely with a graphic design team? Intuiface automatically imports Photoshop psd files, converting all labeled layers and groups into png images immediately available for use. Reimport is smart enough to old capture changes.
Unlimited control over the z-axis – that is, the stacking of visual content in and out of the screen. Plus, with experience layers, you can create "master layers" that are optionally visible across all scenes and always onscreen during scene to scene navigation.
Use Advanced Layouting Help
Based on years of customer feedback, Intuiface includes a host of tools – both manual and automated – to speed and fine tune your design efforts. Snap-to alignment, dynamic guides, "smart" panels, keyboard shortcuts, configurable editor layouts and much more.
Organize into Collections
Through the use of "collections" you can display multiple, related items in a single, interactive context. Besides,  you also can enable your users to browse a library of images, documents, websites, videos and more using tap or drag-and-drop to pop out copies for independent manipulation. Or include image buttons to turn your collection into an advanced navigational tool.
Use a quick-access panel to rapidly change the collection style. Meanwhile, behind the scenes, a machine learning engine is studying your preferences, setting the stage for an option generation capability that will help to improve your designs and maintain your aesthetic.
When first using Intuiface you'll likely take a straight forward approach, creating a literal representation of your designs and workflows. In time you can use Excel to externalize content, speed up experience construction and simplifying project maintenance.
Jump Start With Design Accelerators
Include ready-to-use components – graphics, buttons, menus and much more – to give your experiences a more professional, finished look in less time than it would take you to create everything from scratch. Customize them as you wish.
Bring Your Design Ideas to Life
Unless you're happy with mere image and video walls, you want to make your interactive content responsive in contextual ways. Every visitor is different so make sure your interactive experiences can respond in kind. That's where the "programming without coding" magic of IntuiFace comes into action!
Fine Tune Via Extensive Configuration Options
Every element – from images and videos to documents, 3D models and Web browsers – is highly configurable thanks to a large collection of properties. Customize appearance, define levels of interactivity (doesn't respond to touch? can only be rotated?) and specify functional constraints to ensure you control every aspect of the experience.
Create When/Then Scenarios: Triggers and Actions
When X happens, then do Y. Intuiface exposes this trigger and action relationship for every element of your design and for your experience as a whole. When this page in a document is reached, open that Web Browser at a specific URL. When this button is pressed, play that video. When this timer runs out, reset the experience to an attract loop. 200+ triggers and 200+ actions can be combined, all without writing one line of code.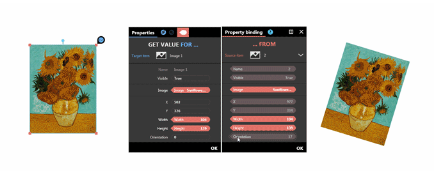 Bind Values to Create Relationships
Mirror values to create relationships between two or more properties, triggers or actions. For example, link the height and width of one image to another. When the first image is resized, the second mirrors the change in dimensions. The potential for visual choreography is unlimited. Add "converters" to transform values before passing them along.
Move, rotate, blur, shrink, hide – all of these actions and more can be animated. You can even choreograph multiple animation effects to work in parallel. Extensive configuration options give you complete control, presented in an intuitive, easy to use style.
25 on-screen gestures can be used as triggers for any one or more actions. This gesture library includes everything from west and east swipe gestures to V-shape, greater than/less than, triangle and circle. Create secret actions only you will know about!
Internationalize With Local Keyboards
Intuiface includes an on-screen keyboard that is localized for 30+ supported languages. IntuiFace uses system information to determine and automatically display the appropriate language and layout but you can override the default with just a mouse click.
Multiple pen widths and colors can be accessed at runtime using your finger or a touch-ready pen. In addition, Highlight key points, take notes or create an interactive art exhibit that turns every participant into a performance artist. After that, snap a picture and save it for offline access.
Design for All with Accessibiliy Features
Intuiface contains a host of features enabling you to design for accessibility. For instance, text-to-speech, keyboard-enabled navigation and wide support for onscreen gestures, all aimed at making it easier for visitors with a range of ability to use your interactive content.
Set Timers and Schedulers
Incorporate countdown and inactivity timers to add conditional logic such as "If no interaction after x minutes, reset the experience." Likewise, use a scheduler to change content and more at specified dates/times. Use UTC-based scheduling to coordinate execution across time zones.
Connect & Extend To Personalize
With Intuiface you can connect your user interface to external data and extend your design to incorporate business logic and any object found among the Internet of Things. Don't want to be limited to static data? Want to link the user experience to a back office system? You can do it with Intuiface.
Your Intuiface experience can write to and read from Microsoft Excel spreadsheets. Firstly, list information and media references in a spreadsheet; Intuiface reads, filters, sorts and displays that content using templates you create. Secondly, update the spreadsheet and the display updates automatically.
Connect To Any API With API Explorer
Without writing a line of code, automatically generate a dynamic connection to any REST-based Web Services API, enabling you to display or upload content in real-time. There are tens of thousands of free services out there offering everything from weather information and stock quotes to NASA photos, museum exhibits and real estate listings. Or use a paid service for your own content management system or connected device.
Display Social Media Feeds
Out of the box you will be able to display Twitter feeds, RSS feeds & Flickr images all in real time. After that, add as many instances as you want to any scene and control them at runtime, updating at predefined intervals and/or enabling users to run custom searches.
Incorporate Beacon Technology
Beacons, particularly popular in retail, are low-energy devices broadcasting information such as product name and price or URL. Enhance your interactive experiences with beacon support. Besides, broadcast Eddystone-encoded URLs, detect the proximity of iBeacon and Eddystone-ready devices, capture tag IDs over Bluetooth LE and use them to display information in context.
Incorporate RFID, NFC and Other Tag Readers
QR code readers, bar code scanners, chip and pin devices… All of these and more capture unique identifiers. These identifiers, aka tags, can be sent to Intuiface and then used to pull up associated information. For example, swipe your membership card and Intuiface says "Hi Geoff!"
Receive Messages from 3rd Party Cloud-based Services
The Intuiface Web Triggers API enables any third party data source, business logic, or device to talk to Intuiface. For instance, we support IFTTT and Zapier out of the box or you can create support for your own services and devices, like back office systems or RFID/NFC readers.
Enhance your experience by displaying live streaming video broadcast via any Web-based video protocol. This real-time display complements Intuiface's support for both local videos of virtually any format and server-hosted video sources like YouTube.
Choreograph Using Remote Actions
Intuiface experiences can communicate with one another across your local intranet or the Internet. In addition, a trigger in one experience can launch actions in another. And a remote action API enables you to use third-party applications to control Intuiface experiences as well.
Work With Connected Objects
Connected objects are devices – sensors, actuators, controllers, and more – that can be accessed, queried and/or controlled over the Internet. Make them part of your experiences. We ship Nexmosphere and Philips hue support out of the box as working examples, plus we document how you can build your own connected object support.
Your prospect wants a brochure emailed to them? Marked up a schematic with colleagues and want to save it for future reference? Use Intuiface's media sharing capabilities so important information doesn't stay locked on the screen. For instance, send emails with attachments or save content to the local file system or a USB memory stick.
Intuiface can take any URL as input and display the equal QR code. Create take-home information on the fly for kiosk visitors without knowing in advance which information will spur their interest. Perhaps use this in combination with Intuiface's beacon support!
Extend To Any External Resource Or Business Logic
If Intuiface doesn't support your data source, back office system or Internet-aware object or if you need some complex business logic, go ahead and build that support yourself using our extensive online documentation and examples. Intuiface can be extended using C# or JavaScript. Want some help? Enlist our development services team.
Publish, Share and Play Your Experiences
Whether collaborating with colleagues, building experiences for clients or doing both, you're going to have to share your work with others. IntuiFace automates the entire process and makes it so simple that you may get angry at the other creative tools you use.
Intuiface can communicate with either a free IntuiFace-hosted cloud storage account or your own company's Amazon S3 or FTP site. Once set up, experiences are copied to the cloud with a single mouse click. Your work is now access globally .
Share Experiences With a Simple URL
No Intuiface? No problem. Each experience has a unique URL. Run that URL on any Windows, iPad, Android or Chrome device and we'll automate the installation of that experience as a self-running application. No account registration or licenses required. Think of it as "easy share"! You can try it out yourself by visiting our Marketplace, selecting any available experience and then clicking the "Try It" link.
Share with Read-only or Read/Write Access Rights
Sharing editing responsibilities? Experiences published to the cloud can be shared with anyone who has an email address. Intuiface Composer flags shared projects as available for download. Just click! You decide if you want the collaborator to make changes to the master or only save changes to local copies.
Preview Tablet and Kiosk Rendering on Windows
Intuiface Composer – the editor – can mirror the HTML5-based IntuiFace Player technology used on all iPad, Android, Chrome, and Samsung SSP devices. Test your work on these tablet and kiosk platforms without even having the target device in-house.
Control Your Experiences Remotely
Only for interactive experiences running on Windows, use our no-cost HTML5-based remote control, the IntuiPad, on any iOS or Android device to – well – remotely control running experiences. With this remote control, project your experiences on a large, possibly non-interactive display for your audience without having to loss the touch control.
Try All Platforms For Free
Every design feature available in IntuiFace can be used for free on all supported platforms. Therefore, don't spend a dollar – or euro – until you are believed IntuiFace does exactly what you need it to do. Besides, there are no hidden features and no limitations preventing you from seeing everything in action.
Deploy & Manage Your Work
You've put together amazing interactive content, now it's time to get it out there. Deploy your work onto Windows, iPad, Android, Chrome, BrightSign, Samsung SSP, and LG webOS devices. Where are these devices? Anywhere in the world. And Intuiface enables you to keep an eye on these devices to ensure they're up and running.
Target Any Make/Model Touch Screen
We like to say the Intuiface platform is hardware agnostic. With rare exceptions, manufacturer and physical screen dimensions – 10.4" diagonal vs. 82" – are not relevant. All Intuiface needs to know is the pixel resolution to ensure designers are provided with the right canvas size for their design. So target everything from an Android tablet and iPad Pro to the Microsoft Surface Pro, a Lenovo Chromebook, a 22" HP all-in-one kiosk or an 82″ Planar-based multi-display video wall .
Access Through Customized Cloud-hosted Control Panel
Every user has a personal My Intuiface homepage. Through this site, users can access everything from their license list to analytics dashboards to the Share & Deploy console, our HTML5-based tool automating the process of experience sharing and remote deployment.
Deploy Globally From Anywhere
Our web-based Intuiface Share & Deploy console presents a real-time stock of all Internet-accessible instances of Intuiface Player – regardless of geography or operating system – and enables device-level deployment of experiences. Use tag-based Player filters to deploy the right experience to the right devices using nothing but your mouse; apply schedules for hands-free experience push and play . Work with devices in multiple countries, never leave your chair.
Quickly and Easily License Devices in the Field
With multiple keyboard-free methods for licensing Intuiface Player – including the ability to license Players sight-unseen. Therefore, you never have to worry about preparing widescale, remote environments for experience deploy
Wrap Your Custom UI Around Our Share & Deploy REST API
Everything you can do via our web-based Intuiface Shared & Deploy console can also be achieved programmatically through a REST API. Besides, using this API, you can custom build your own UI tailored to the specific needs of customers and clients. Or combine our APIs into an existing CMS. It's up to you.
Schedule Deployment and Other Player Services
Control the date, time, and frequency of remote deployment and other Player services like system reboot and software updates. This make sure well-planned processes are automated and don't depend upon manual intervention.
Run Your Content Both Online and Offline
No Internet connection? No problem. Save Intuiface experiences locally and run them offline. After that, pull the Internet cord from your Windows PC, shut down WiFi on your tablet or kiosk. Of course, by running experiences online, you can take advantage of remote deployment, integrations with third party services, and more. It's your choice!
Monitor with Crash Recovery
Monitor the health of hundreds of devices in real time. Force a restart. Remotely update Intuiface Player software on any device, anywhere. Use our automatic crash recovery capability. You can even see the active scene in the running experience on each device! It is up to the second insight for all of your devices.
Deep Analytics Through Interactivity
The beauty of interactive content is it can tell you the exact preferences of your target audience: they touch what they like. Use Intuiface's enterprise-class analytics capability to define, collect, visualize, and share data collected by your interactive Intuiface experiences, turning those experiences into an essential KPI resource. All without coding! For a more complete description - plus video demonstration
Capture virtually any event imaginable. Start with all interactive events – items selected, videos played, scenes visited. But also capture identification information – like an ID from an RFID/NFC reader or beacon – and location info like time, city, weather. It's deeply rich content for every event.
Capture Events Automatically
 A wide range of information is automatically recorded for every data point. For instances, time of experience start/stop, time of scene entry/exit, name of device, name of experience, timestamp of the trigger you're capturing. And much more.
Use our Chart Editor to compare performance, visualize trends, identify outliers, measure contribution, and more. Works with all collected data and offers a wide variety of chart creation and editing options. Includes the ability to export charts in flat file formats (e.g. image, PDF) and as data sets for offline analysis.
Intuiface collects data points from even the largest multi-device deployment and combines them into a single cloud-based data store. From there you can download data into Excel, push them to third party data mining platforms like Google Analytics, Mixpanel and Segment, or forward them to your own cloud-hosted database.
Build an unlimited number of dashboards, each comprised of a unique set of charts specifically collected for a particular audience. Each dashboard be shared with read-only access via any number of public URLs or website-hosted iframes. Configure shares on the fly, controlling what is and is not visible.
Record unlimited data point parameters
For each logged event you can record an unlimited amount of static and dynamically accessed information to give that event further context, improving analytic insight.
Differentiate users of your interactive content using any set of parameters you specify. Could be something simple like "after two minutes of no interaction" or "whenever the Restart button is touched". Or could be quite advanced, using badge-reader information to capture user IDs or using face-detection software to identify new people as they approach, combined with their age and gender.
Record while online or offline
Will your deployments be offline? Will Internet connectivity be inconsistent? When offline, IntuiFace stores data points locally, monitoring Internet connectivity and uploading data once connection is re-proceed.
Use on all Intuiface supported platforms
Collect data across the largest line-up of devices in the industry. Build once, run it everywhere. After that, parse your data by platform for an interesting perspective on your users.
Fast and light data transfer
Data is transferred at a 98% compression rate, significantly reducing data plan use over 3G/4G connections.
Flexible Licensing Model and Administration
Various subscription options are available to ensure all project needs can be met. These licenses can be mixed and matched to ensure you never pay for more than you need while retaining the flexibility to make changes on the fly.
Multiple Subscription Options
Subscribe for a month, a year or multiple years. Pay no hidden costs, use only what you need – perfect for highly variable project requirements. In addition, a discount for multi-year prepay ensures you'll be budget smart when looking like a hero for using Intuiface.
Online Account Administration
Use our dedicated Account Administration website to download licenses, transfer licenses between machines and manage subscriptions (refund, cancel, resume). Monitor and track all of your licenses in one place and from any Web browser.
Transfer Licences Between Accounts
To ease collaboration with large internal teams or multiple clients, you can temporarily or permanently transfer your own licenses to other Intuiface accounts. This lowers the bar for collaboration by eliminating the need for your colleagues and clients to buy their own licenses.
Just because you have 10 designers doesn't mean you need 10 licenses. Use our shared licensing model and you can equip a large team with a small investment. In short, Intuiface handles all license server activity so there is nothing for you to host on premises.
Only for Windows PCs, you have ownership of the splash screen that appears when starting up your Intuiface experience in the field. Show nothing, show your own brand marks, show your client's – it's up to you.
Distribute Licenses with Ease
We have devised a highly flexible licensing model in which licenses are platform independent and automatically restored, making it easy to manage multiple devices and OSs without having to deal with license keys or license management overhead.
Create using Intuiface Composer on Windows, Deploy and Run using Intuiface Player on virtually any Windows, iPad, Android, Chrome, LG webOS or Samsung SSP device.
Interactivity + Connectivity + Analytics
The Insight Your Business Needs
Intuiface-based interactivity shows your target audience's demographics and preferences. Intuiface-based connectivity gives you access to rich contextual information like weather, location, and organizational data. With Intuiface Analytics, you can take all this information and turn it into insight.
Define the data that are important
Identify the events you care about - either human or machine initiated - then specify the information you'd like to collect about those events. Do all this without writing code.
Interaction Events
Differentiate sessions and log every interaction of interest - scenes visited, items selected and much more.
User Identification
Grab ID info via forms, badge readers, cameras or any other connected device and merge with session information.
Environmental Info
If it's available at the device level, collect it: time, date, weather, city, store location, etc.
Herbalife Nutrition is a global multi-level marketing corporation that develops and sells dietary supplements. The company was founded by Mark Hughes in 1980, and it employs an estimated 8,900 people worldwide.
We supplied 50" 4K interactive display kiosk and 55" 4K interactive wall mounted display to showcase their company details, products and services. We custom made the interactive experience that is cloud connected that allows updates to the content wirelessly. We have also integrated the LG commercial display with our network based Content Management System (CMS) that enables remote update of contents directly from their HQ at Kuala Lumpur. Our CMS solution is user friendly and affordable, and is 4K-resolution enabled to sharp viewing experience.
Herbalife Nutrition - Penang, Johor Bahru & Kuala Lumpur offices
Want to know more about the product?