A fully-featured video wall solution that delivers a seamless and enhanced viewing experience.
Slide 1
Videowall
Digital Display
Captivate customers through visual
compelling content.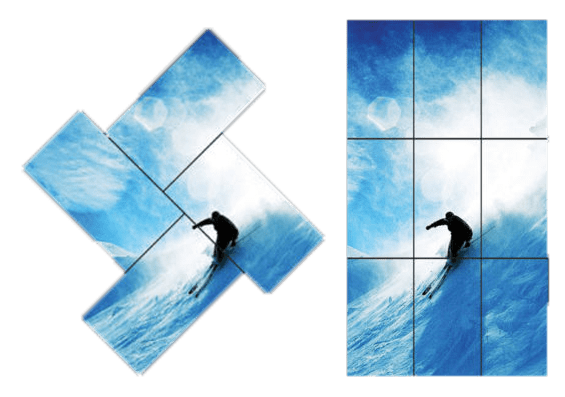 Captivate customers through visual compelling content.
Video Wall Digital Display
Videowall digital display or video wall is a multi-monitor setup that is built by multiple computer monitors, projectors, or televisions. It delivers seamless images and is scalable to any size or shape.
Configurable & Modular Video Wall Solution
A video wall is a multi-screen setup where multiple screens or monitors are tiled together to create a large-format display. It supports inputs such as camera, TV, website feeds, animated graphics and images.
A highly flexible and modular digital display that enables screen configurations of different sizes or shapes.
Razor-thin bezels help to deliver immersive and smooth images. Realistic image representation. A viewing experience without any distortions that can illustrate a subject perfectly in its truest form.
Different Shapes and Sizes
"Tiling" multiple display devices create a videowall. Video wall of any size and aspect ratio can be built, often in very creative ways. A videowall display layout never has to be limited to the standard 16:9, 16:10, or 4:3 aspect ratios. In addition, displays in a videowall can be oriented horizontally, vertically, or even a mix of both.
Multi-Screen Digital Signage
By sum up the SMP player with a video wall controller, stunning visual effects can be created to stretch across a group of large-size flat panels. The video wall is the most suitable digital signage solution for stadiums, buildings and halls.
3 Reasons Why Videowall Is A Smart Investment
A video wall brings many benefits to businesses. The resolution and the video quality are greatly enhanced. Perhaps more importantly, its reach and engagement power are matchless.
Slim and easily configurable Wall Mount that suits your business needs.
Professional video wall mount with Lock Push System and 8 micro-adjustment places. 
Support screen size from 50 to 70 inch. Suitable for landscape or portrait screen mounting.
Applications of Videowall Display
Video wall can be used in various industries and applications.
Retail / Monitoring Center
Airport
Stock Exchange / Trading Room
Conference and Meeting Rooms
Retail Advertising
Building Lobby
Video Wall Specifications
Available in different sizes and resolutions. Suitable for various applications. As a professional video wall supplier, our dedicated software and a wide range of professional services make sure you get the most out of your video wall.
Want to know more about the product?