BIG INDOOR
Fine Pitch LED Display
Small Pixel LED Screen Display from P1.0 to P2.5.
Small Pixel LED Screen Display from P1.0 to P2.5.
BIG INDOOR
Fine Pitch LED Display
Small Pixel LED Screen Display from P1.0 to P2.5.
Indoor Fine Pitch LED Display
Big Indoor Fine Pitch series is our small pixel pitch LED screen display product lineup for resolution-sensitive applications, where the space between each pixel has to be less than 2.5mm. A close viewing distance as short as 1 meter is possible.

Unlike normal pixel pitch LED screen display, fine pitch LED screen display is not going to produce any grainy effect.

It is suitable for high resolution indoor applications, such as large TV replacement beyond 100 inches with 4K or Full HD resolution, meeting rooms, conference rooms, sales gallery and halls.

As a professional LED display supplier, we have various pixel pitches. Pixel pitch options available are P1.0, P1.2, P1.3, P1.5, P1.6, P1.8, P2.0 and P2.5.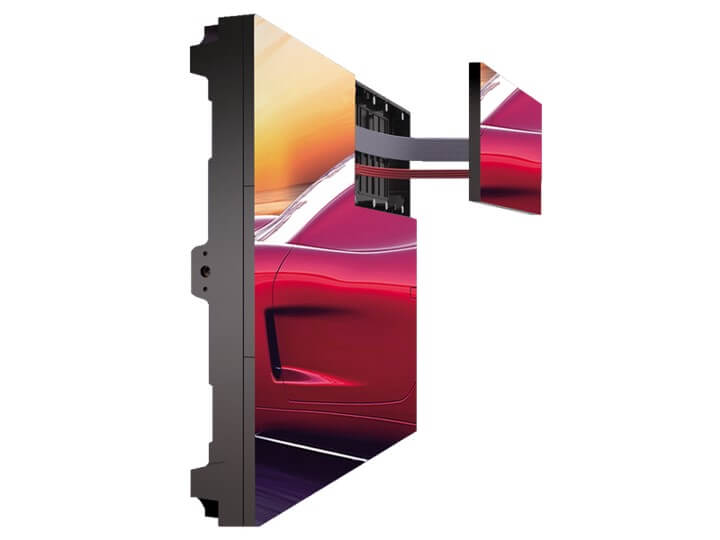 The fine pitch series LED module is designed to be attached to the die-cast magnesium alloy panel via strong magnetic attachments.

The LED module, power supply and receiving card are fully serviceable from front, reducing the need of having a service platform at the back. Therefore, the installation can be slimmer.
Flexible Installation Method
Our fine pitch series LED panel supports three different types of installation methods. Depending on your needs, it can be:
Standalone with steel frame backing
Hanging with optional hanging bars
Wall mounted
Different Specs, Same Size
We utilize 640mm x 480mm LED panel size for our Fine Pitch series.
It does not matter whether you choose P1.0, P1.2, P1.3, P1.5, P1.6, P1.8, P2.0 or P2.5, the overall screen size can be the same.
Therefore, it gives you truly flexible selection with different price range and screen sharpness that you are seeking in your installation.
Videowall was a popular choice few years ago with the ability to form a giant screen by cascading multiple of TV-like screens with slim bezels. However, videowall has some problems such as:
Visible bezels between each videowall panel
Grid lines across the screen and it does not look good, especially on people's faces
Each panel requires a very precise tuning & calibration to get even brightness and colours
One broken panel becomes a major issue as it affects the rest of the panels due to looping video signal
Our BIG indoor series' LED Screen Display is bezel-less and seamless. Each LED module is tuned and calibrated from the factory. In short, our LED display can give you seamless and uniform visual experience.
LED Screen VS Projector Screen
Are you still using projector screen? We believe you will face the following problems.
Projector screen is dim and not bright enough
Must turn off the lights / cover the windows when using the projector
Have to change the lamp bulb every few months
Need to service the filters and fans to prevent projector from overheating
If yes, then it is the right time to go for LED screen display and all of above problems can be mitigated. Our BIG Indoor series LED screen display is bright, vivid, and is maintenance free. The difference is day and night once you upgrade to our solution.
Want to know more about the product?