Retail LED Screen: In-Mall LED Screens in Malaysia Retail Space
Retailers in Malaysia often deal with tough challenges due to the fierce competition and the fast-paced nature of the retail industry. They are constantly competing with each other to grab the limited attention spans of the target audience. One of the most common approaches is to increase brand awareness by using traditional advertising displays such as banners and posters.
But today, traditional approaches are not really working well because they are too common. Potential customers tend to ignore traditional advertisements. They have seen the same messages over and over again. It is important for retailers to distinguish themselves from competitors, and one of the best methods is to adopt dynamic advertising by using the retail LED screen.
What is Retail LED Screen
LED screens are commonly found in various places such as building lobby, exhibition center, airport, transportation hub, and meeting room. One of the main purposes of using the LED screen is to advertise. Businesses are constantly evolving. Years ago, business owners and advertisers have started to adopt LED displays in retail advertising. An LED screen that is used in retail advertising is thus known as a retail LED screen.
Depending on the applications, there are mainly two types of retail LED screens – indoor LED screens and outdoor LED screens. Indoor LED screens are commonly used by stores in shopping malls. They are used as in-store displays and window displays. On the other hand, outdoor LED screens are commonly found in open areas where the LED displays are exposed to hot sun and rain. They can be found in shopping streets and commercial areas. They can even be installed on the exterior walls of buildings or shopping malls.
Retail LED screens are quickly gaining popularity among business owners. The innovative idea is well accepted due to the benefits it brings.
Some of the mentionable advantages of the retail LED screen are
Modular design with customized sizes
High screen brightness
Increase customer engagement
Cost-effective solution
P1.6 Indoor LED Screen at Jaeger-Lecoultre, Pavilion KL. Support installations of various sizes and shapes.
Modular Design with Customized Sizes
Flexibility is important in a retail business. When it comes to advertising and brand promotion, a flexible tool with the least restrictions is the most ideal choice. Traditional advertising tools such as banners and signages are less flexible in terms of content formats. They can only display both handwritten and print advertisements. Besides, most shoppers have lost interest in traditional advertisements since nothing is special about print advertisements nowadays.

Humans are visual creatures. We tend to react to visual information. Our attention will be drawn when our eyes are stimulated by new, beautiful and stunning visual elements. LED displays are ideally suited to retailers. Various digital formats are supported, such as videos, animations, graphics and texts.

Since LED screens are modular, retailers are free to design LED displays of any shape and any size for their applications. It is highly flexible as retailers can also install displays with the best sizes that suit their stores' layout. From window display to hanging and wall installation, retailers can install the LED screens in any method they prefer.

Furthermore, business owners and advertisers can also drive footfall traffic more effectively by displaying large-format images of any shape. A large display can grab attention easily as it is standing out even in a noisy and crowded retail mall. It helps to deliver a stunning and unforgettable viewing experience. As a result, shoppers and customers will remember your business. Thus, brand awareness is built successfully.
Two P3 Indoor LED Screens, a P2 LED Screen Pillar and a P2 Vertical LED Screen at Under Armour, Pavilion KL. Support installations of various sizes and shapes.
Retail LED screens have higher levels of screen brightness than most TV screens and LCD displays. A brighter screen is extremely important as it helps to create a striking and visible brand message. Retail malls and shopping streets are always crowded. Shoppers are exposed to various brand messages and promotions, ranging from fashion brands to home & living.

Traditional advertising tools have an obvious disadvantage in reaching shoppers effectively. Without bright displays, these tools are unable to reach shoppers from a further distance. Besides, traditional advertising tools always lose their competitive advantages when a variety of different, brightly lit decorations in the malls outshine them.

A brighter retail LED screen is always the better choice. LED display can deliver interesting content with vivid colours to shoppers from all directions. The visibility is highly enhanced. Furthermore, an LED display with a brighter screen is also suitable to be used for outdoor applications. It can help to maintain a visible viewing experience when the sunlight is extremely bright during the daytime.
P3 Indoor LED Screen at Crossover Sneaker Store.
Increase Customer Engagement
Businesses prefer active customers. Active customers are customers that are willing to ask questions, give valuable feedback and interact with your brand. These interactions are extremely important as they could help to create recurring customers.

In order to drive engagement, businesses must find ways to add value to their customer experience. Window displays and in-store LED displays are some of the most effective methods. First, the shop window acts as the frontline or the first point of contact where visitors are being greeted by your brand message. Store owners can display meaningful content with LED window displays and invite visitors to walk into your stores.  

Second, once visitors have walked in, store owners can continue to grab visitors' attention by utilizing in-store LED displays. Highlight products with interesting and colourful presentations. Inspire visitors with promotions and interesting messages. If you are able to grab visitors' attention, your sales assistants' tasks in converting visitors into paying customers will be easier.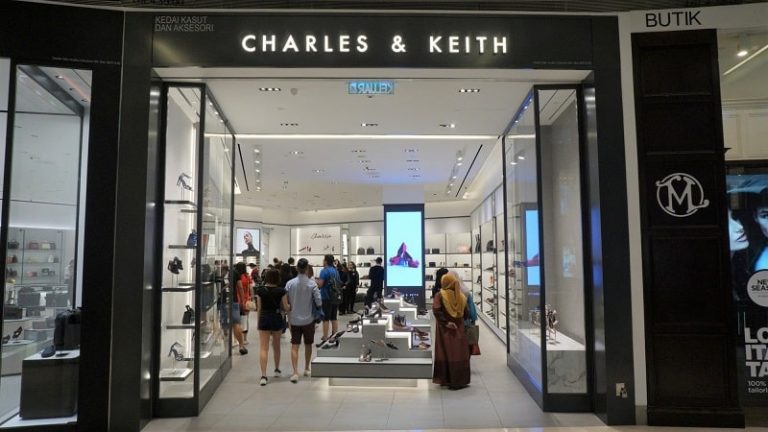 P2 Indoor LED Screen at Charles & Keith. In-store LED display helps to drive customer engagement.
Besides, interesting retail LED screens can also encourage customers to connect with the business on social media. Businesses can now create brand awareness via both offline and online channels. And when your customers decide to share your brand with their friends, it is going to be one of the most beautiful things that a retail LED screen can achieve.
LED screens are not only limited to retailers. Cinema operators can also install LED displays at their waiting halls and ticket counters. Golden Screen Cinemas (GSC) is the largest cinema operator in Malaysia. It has installed an ultra-large P4 Indoor LED Display at its waiting hall at Midvalley Megamall. The LED display is used to showcase movie trailers and cinema promotions. These contents can drive engagement and motivate moviegoers to revisit the cinema in the future.
Large P4 Indoor LED Screen at GSC Midvalley. The LED screen is used to showcase upcoming movie trailers and promotions.
Some retailers might feel reluctant to utilize retail LED screens in their businesses due to the cost concern. Truth be told, LED screens are indeed more expensive than most advertising displays or tools such as TV, LCD display, traditional signage and banner. However, business owners or retailers should always focus on the return on investment. It is not always about how much you have spent. The most important consideration is how well your money is spent.

Retail LED screens have a lot of advantages that overweigh the cost disadvantage. It helps to attract customers more effectively than most traditional displays. It helps to increase revenue in a business. Besides, it also helps to drive engagement. A good relationship between a brand and its customers can be established.

In addition, the retail LED screen is a commercial-grade display that is well designed and engineered to meet heavier business applications. The LED display is durable, and it has a longer lifespan than most traditional displays. It requires very minimal maintenance, especially when compared to tools such as banners and posters. Hence, the maintenance cost is greatly reduced.

Retailers always need to react quickly to changes in trends, products, customer preferences and promotions. Brand messages must be updated as quickly as possible. Traditional banners and posters have an obvious disadvantage in content updating. Advertising materials need to be designed and printed. Printing expenses can be a huge burden over the long term. Unlike traditional displays or tools, it is easier to manage and update LED display content. Retailers can change their messages instantly, anytime and anywhere. Besides, it is also possible to schedule the LED display to display or rotate different messages throughout the day.

It stings when you purchase the retail LED screen. However, when the display starts to show a satisfying result, your investment is worth every penny.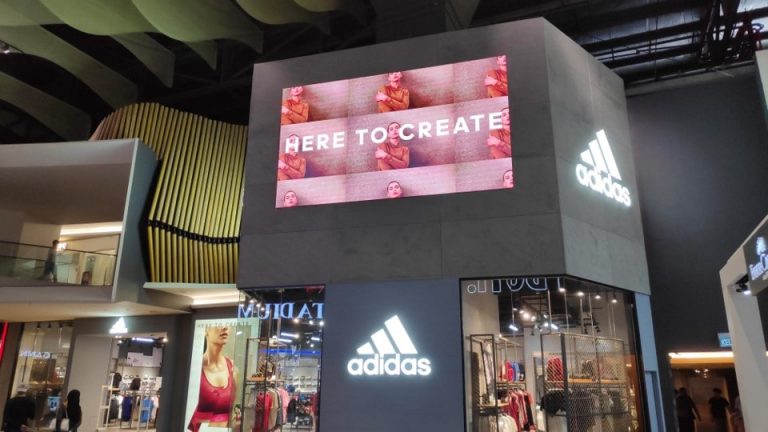 P4 Indoor LED Screen at Adidas, Midvalley. The LED screen is installed uniquely on the wall outside of the store.
Choose The Best Pixel Pitch
Pixel pitch refers to the distance (measured in millimeters) between two pixels on an LED display module. A shorter distance will result in a smaller pixel pitch and higher pixel density. Pixel pitch is always related to image resolution. Generally, a higher pixel density provides a viewing experience with finer details. Viewers can get better image quality, smoother lines and better fonts on the screen. Besides, a smaller pixel pitch can also ensure a shorter viewing distance.
The most-used pixel pitch options for retail LED screens are ranging from P2 to P6. A smaller pixel pitch can create a higher resolution, but it is more expensive too. A fine pixel pitch is great, but it might not suit your application. There are times when you can still achieve great results even with a cheaper solution. This is the time when a consultation from a professional LED display supplier is extremely important. An LED display solution provider can always advise customers in getting the best pixel pitch for their applications.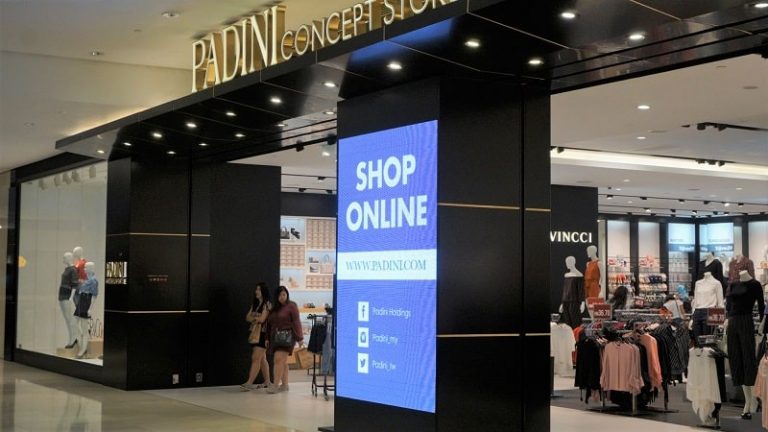 P4 Indoor LED Screen at Padini Concept Store.
Choose the Best LED Screen Supplier
Retail LED screen is a great product, but it is crucial too to find yourself a professional LED screen supplier. A great LED screen supplier can always add extra values to your LED displays. An LED screen supplier often provides a full range of services such as consultation, design, installation, technical support, and maintenance.
A responsible supplier can also help customers to avoid technical issues that can affect the performance of an LED display. Some of the most notable technical issues are the poor alignment of LED tiles and the low refresh rate.
Visible seams and poor alignment of LED tiles.
Poor alignment of LED tiles can often result in visible seams. Visible lines can be seen on the screen. It can affect the viewing experience badly.
Another serious issue that will cause a degraded performance is the low refresh rate. Refresh rate refers to the number of times a new image is drawn per second. A low refresh rate can cause screen flickers where visible horizontal lines appear on the screen. The horizontal lines will appear even worse when it is captured or recorded through a camera. This can stop your customers from sharing your brand message on social media, and thus indirectly affect customer engagement.
The retail industry is a highly competitive industry where retailers are facing various challenges constantly. Retail LED screen is definitely one of the must-have tools for every retailer. The ability to be standing out is extremely important in capturing customers' attention. Technology is advancing at a rapid pace. Businesses should also keep evolving and continue to provide unique user experiences to their customers. Explore endless possibilities brought by retail LED screens. Start today by contacting your most trusted LED screen supplier or solution provider.