How Property Developers Use Digital Displays In Their Sales Galleries
As one of the fastest-growing economies in Southeast Asia, Malaysia is a country that puts heavy emphasis on both the construction and property development industries. Thanks to the government's continuous efforts in encouraging young adults to buy their first homes, the property sector is expected to recover strongly in 2022 and beyond.
While various policies and banks' promotions are helping to increase consumer demand for houses and commercial properties, property developers still need to do their very best in marketing their products. Sales gallery is one of the most important offline channels. To attract and engage potential customers that visit the sales galleries, property companies have been trying various methods and approaches. One of the most effective methods is to use digital displays such as LED screens, digital signages, and digital kiosks.
In this article, we will discuss how property developers use digital displays in their sales galleries.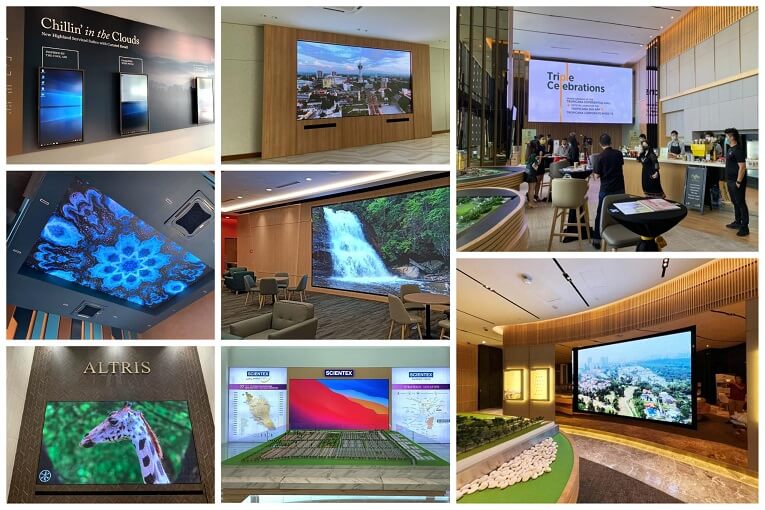 Sometimes, the answer can be very simple. To attract the attention of potential customers, one of the easiest methods is to use large screens. Human brain is very powerful, especially when it comes to identifying images seen. When the image is large enough, the eyes can focus on the image quickly, and thus the time taken for the brain to identify the image is shorter.
Besides, when the screen is large, viewers can view the content from a further distance. This can help property companies to expand their reach within the sales gallery.
Due to the modular characteristic, LED screens and video walls are commonly used to build larger screens. Unlike digital signages and digital kiosks that come in fixed screen sizes, property companies can design and build LED screens or video walls in their preferred sizes and shapes.
Tropicana Corporation installs a P3 indoor LED display at the Tropicana Property Gallery. The LED display has a width of 3.52m and a height of 1.92m. Another example is the P3 indoor LED display at Scientex Bandar Jasin. This is a larger display with a screen size of 4.16 x 2.4m. Both LED screens are used by the property developers to showcase their ongoing projects and communicate with their potential customers.
P3 Indoor LED Screen at Tropicana Property Gallery.
P3 Indoor LED Screen at Scientex Bandar Jasin.
2. Unique Application: Go Creative!
Another effective way to attract attention is to offer something fresh and unique. Customers can be attracted to things they have never seen before easily. With thousands of property developers and real estate agencies in Malaysia, how can a business attract customers' attention successfully?
Creativity can help property developers to stand out and speak to their customers. The idea can be simple, as long as no one else has done it before.
The Rosewoodz @ Bukit Jalil chooses to go creative with their LED screen installation. While most LED screens are mounted or embedded in a wall, the EXSIM group-owned sales gallery invests in a ceiling LED screen. The P5 indoor LED display is hung on the ceiling. It creates a whole new viewing experience that most customers have never seen before in Malaysia.
With a little twist to the installation method, the sales gallery manages to create an extraordinary experience where visitors can fully immerse themselves in the wonderful world of fantasy.  
P5 Ceiling LED Screen at The Rosewoodz @ Bukit Jalil.
Instead of distributing physical flyers, some property developers choose to install digital signages and digital standees at their sales galleries to share product information. Property developers can display photos and videos of their ongoing projects to help customers to visualize the projects.
Besides, property developers can also provide virtual tours by using digital signage. It can help to create more memorable impressions and thus engage the customers more effectively.
Aristo Developers is a well-known property developer in Cyprus. The company uses many digital signages in its sales office to communicate with potential customers.
Digital signages at Aristo Developers' sales office.
Image by Gold News. [Image source https://www.goldnews.com.cy/]
4. Engage Effectively: Go Interactive
Using interactive content can provide more engaging and exciting house-buying experiences for customers. To display interactive content, touchscreen-enable digital displays such as digital kiosks and interactive smartboards can be used.
Interactive content turns customers into active participants where they can choose to retrieve whatever information they want by interacting with the screen. Some digital displays are equipped with sensors that can detect gestures or hand movements. Viewers can retrieve information just by standing and moving their hands in front of the displays, without touching the screens.
There are three units of touch screen panels at the Tropicana Grandhill Property Gallery in Pahang. Visitors can swipe or press the buttons on the screens to retrieve project information.
Interactive smartboards at Tropicana Grandhill Property Gallery.
Traditional marketing and advertising are losing their ground fast in the real estate sector. Buying a house or real estate is never an easy decision. Using digital displays can help customers to visualize and understand more about the projects.
Now, it is the time to say goodbye to traditional signboards and flyers. Say hello to stunning digital displays!